Audio Equipment
auna audio/video accessories: details that matter
Not only quality hi-fi components. At auna, you can purchase a wide range of audio and video accessories for all your audio and home entertainment needs conveniently and without shipping costs.
Take a look through our product gallery and subcategories to find the item you are looking for. From cables and adapters to practical TV and monitor stands, the quality and affordable prices of auna products make it easy to create the perfect audio and video set-up, both technically and aesthetically. Don't miss out on our offers and shop online n
Hanging your monitor or TV on the wall using a special support saves a lot of space and is a very convenient and attractive solution, allowing you to gain aesthetic cleanliness and the linearity of the room's layout. By fixing the television to the wall or having maximum freedom of adjustment for height, angle and tilt, TV stands allow making the most of your screen, whatever its location.
Optimizing your corners, saving space and eliminating reflections or barriers has never been easier and affordable. To hang the TV on the wall, you need a special support or a bracket that correctly holds the device and distributes its weight. Fixed TV brackets are the most common type, where the screen will screw into the bracket and remain attached to the wall. Although it is a basic model without too many frills, in most cases, it is all we will need to achieve our purpose. To use this type of bracket, you will need a large area on the wall so that you can fix it correctly and in the proper position, with enough space for cables, or to use the HDMI ports without getting in the way.
Tilting TV mounts are similar to the fixed model, but they allow you to adjust the height and angle of the TV once it is fixed l: an exciting and helpful feature because it will make it possible to watch the screen according to the height of your gaze. Depending on where you are sitting, the distance to the screen, and the screen's height, you can use this support to tilt and move the screen slightly to see the images as clearly as possible. Another advantage of being able to adjust the tilt is to eliminate any reflections from windows or lamps.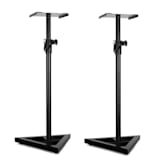 Speaker stands, or pedestals, are among the most critical components in a HiFi system: you can place your compact loudspeakers, also called bookshelf speakers, on a simple piece of furniture, but it is recommended to use specific stands whenever possible. By doing so, you can improve the aesthetics of the Set-Up, compared to simply placing it on a sideboard, but above all, you gain several technical advantages, as they
allow free positioning in the room, not linked to the availability of existing furniture


raise the loudspeaker to the ideal listening height


minimise the problems of immediate reflection from the nearest surfaces such furniture or floor


isolate the speakers from the rest of the room by damping unwanted vibrations from and to the cabinet
Audio cables assume great importance when talking about wired hi-fi or home theatre systems, with components that cannot be connected wirelessly. This is because, often, a poor quality audio cable can alter, delay or distort an audio signal, causing a deterioration in the sound performance of the system. Similarly, it is important to know that it cannot "enhance" the audio signal. Audio cables have the simple task of transporting the signal, which then travels through it remaining unchanged or, in the worst-case scenario undergoing alteration.
Speaker cables, being designed for loudspeakers, carry a rather powerful electrical signal from the output of an amplifier to a loudspeaker. The latter is characterised by a high voltage (up to tens of amps) and a low impedance. On the other hand, signal cables transfer the audio signal from a sound source, such as a CD player or even a musical instrument such as a guitar, to the integrated stereo amplifier or the preamplifier, which in turn is connected to a power amplifier. Given their specific use, they are rather sensitive and thinner cables than speaker cables because they carry an audio signal with a low voltage (in the range of milliAmps) and high impedance.
Connectors are the ends of the cable to be inserted into audio equipment. They are one of the essential components of a cable because they significantly influenceits audio performance. There are various types, also made of precious materials such as gold plating, and they differ according to their intended use.
The video projector is an alternative choice to the television, but one that is only used in certain situations. However, it is a device that provides cinema-style viewing for enthusiasts and those with space. Once the preserve of the few, now an option for many, thanks to the refinement of quality and the corresponding price reduction, a projector only needs to be purchased in some instances. A video projector is a specific choice that excludes the standard television for viewing certain content and offers a cinema-like view, with a larger screen than any TV (up to 250 inches).
On top of this, a projector allows you to view high-definition content, such as Bly-ray, HD-DVD, Sky HD channels, and high-resolution video games. It's an excellent way to re-purpose a room in the house that you don't know how to use and to project your PC work, such as presentations, edits, etc. (in this case, a standard resolution projector is sufficient), but also to see large-scale films taken by your video camera (in this case, an ordinary resolution video projector is adequate).
All vinyl record lovers know that you need various accessories for the care, transport, cleaning, and proper storage of your vinyl collection, in addition to a good record player, to prolong the life of your vinyl records as much as possible and to preserve their sound quality. Vinyl cases are the best solutions for keeping your collection, taking your vinyl to a DJ set or concert or even displaying them.
Our retro-looking vinyl cases are suitable for transporting and storing 30 vinyl records. The empty case weighs just over 3 kilos, has a comfortable handle and are made of very rigid panels, with sturdy hinges and reinforced corners. They are suitable for transporting records safely and prove ideal for any performance or show, thanks to their professional look and bright colours.
Vinyl is not always so dirty that it requires the use of a record cleaning machine: in many cases, it is enough to use any of the existing solutions to clean vinyl. But if you have filthy records that you want to save, the record cleaning machine is the only solution. Our Vyninc Clean is an excellent entry-level record cleaning machine, where entry should be understood to refer not to the quality of the record washer, which in itself is awesome, but to its outstanding value for money.

Our hyper-compact record washer is particularly recommended for those who are just getting into the vinyl world: it comes with a bottle of distilled water and an antistatic cloth, perfect for cleaning and reviving your 33, 45 and even 78 rpm vinyl.

Also interesting: