Hifi Equipment
auna hi-fi equipment: solutions for a crystal-clear musical playback
Good-quality hi-fi equipment is essential to enjoy every nuance of your favourite music. At auna, you have a wide range of options to build the perfect set-up and fulfil your listening pleasure. From hi-fi amplifiers to hi-fi receivers with CD players, we got you covered with tailor-made solutions for all budgets. Our modern Hi-Fi equipment is up-to-date and offers you maximum compatibility with the main playback standards. Do you need a Bluetooth connection to connect your smartphone or tablet wirelessly? No problem! We know well that using a mobile device as a source gives you access to a huge variety of content, from the device's music library to an internet streaming service.
In this way, you have a virtually unlimited amount of music at your disposal. In our product gallery, you can find different types of hi-fi equipment, ranging in price from a few tens of pounds to over a thousand euros. Have a look at our product gallery, and find the best gear for your home entertainment system. Don't miss our offers and buy conveniently online, with no shipping costs.
HI-fi systems & sets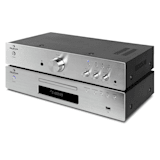 The main part of hi-fi is the central system that integrates all the electronics needed for proper operation. It almost always contains sources, amplifier, ports and all connectivity options, most of which are located at the back and not visible during listening. These are all essential elements for music reproduction, without which the speakers could not reproduce any sound.
Let's start with the source: you will often find a CD player for listening to music recorded on a physical medium in the central body. If you have a few years behind you, you will certainly remember stereo systems with cassette recorders, while some models still come with a turntable, allowing you to dust off and play your old vinyl records. Nothing vintage or old-fashioned; in fact, many audiophiles nowadays prefer to listen to vinyl for its warm and involving sound qualities, rather than the aseptic digital music of MP3 files or CDs.
Sources and connectivity options can go hand in hand. In a hi-fi system, you can use a USB stick as a source, plug it in if there are USB ports in the body, or Bluetooth by pairing it with a smartphone or tablet. In the latter case, whatever the mobile device plays will, in turn, be played by the hi-fi system, with a considerable increase in sound quality compared to the small speakers built into smartphones and tablets.
Hi-Fi Amplifiers
The amplifier can be considered as the core of your entire hi-fi system, providing and managing the electrical current to be delivered to the other components of the system, especially the speakers: the more powerful it is, the more it will have the ability to drive large, hard-to-handle speakers.

<º>The power of an amplifier is measured in W RMS, although many manufacturers use different metrics to measure it in their systems. Orientation on this alone is difficult, if not impossible. Other specs to evaluate the goodness of an amplifier the total harmonic distortion and the SNR, measuring the ability respectively not to colour the sound with elements that do not exist in the source and the background noise produced by the electronics circuitry..
Wireless headphones
Is the future of music wireless? Probably. Wired headphones have - and probably still will have - their raison d'être, but modern Bluetooth devices have very little to envy their wired counterparts: they are light, have good autonomy, andn guarantee a more than satisfactory sound quality. In addition, there are smartphones, such as all the latest iPhones (but not only), that make the use of wireless headsets almost a compulsory choice because they don't have a headphone jack - you can also use wired headsets, but only resorting to other hi-fi equipment, such as adapters, or by purchasing headset models with special proprietary attachments.
Are you also tickled by the idea of ditching your old wired headsets and switching to Bluetooth headsets? Then give it a try - after all, in our product gallery, you can find quality wireless headsets that, for less than 50 pounds, can guarantee amazing sound quality.
Also interesting: